HP was known as a cheap computer brand that made average hardware. All of that has changed with their Sprectre lineup. HP's Spectre line has some of the best laptops out on the market. Many individuals in the tech industry revere the Spectre x360 13 as one of the best convertible laptops currently available. The 2017 15-inch Spectre x360 is a solid refresh compared to the 2016 model and carries the Spectre name well. I must admit that HP has brought some heat with this one.
The price of the Spectre x360 15 starts at $1,200 for the 1080p model and goes up from there. The unit that is being reviewed is currently priced at $1,600 and is spec'd with: a 4K 15-inch IPS touch screen, Intel Core i7-7500u. 16GB DDR4 SDRAM, 512GB PCI-NVMe SSD, and a Nvidia GeForce 940MX graphics card with 2gb of dedicated ram.
Design
The machined aluminum chassis of the Spectre is amazing. The design screams luxury and the build quality is premium. To my surprise has built a laptop that can rival Apple in build quality and design. Something that I would have never said years ago. The Spectre x360 15 only comes in one color and that is "dark ash silver". The color looks great both in door and outdoors. I really like the copper accents that are around the laptop. It adds a nice flair to the design. The Sprectre's 15.6 inch 4k screen is covered in Gorilla Glass and should be durable when in tablet mode. Talking about tablet mode, the hinge on the Spectre is good and turning the laptop into tablet mode is easy. The hinge is moderately stiff when in laptop mode and like most convertibles it does have some screen wobble when using the touch screen.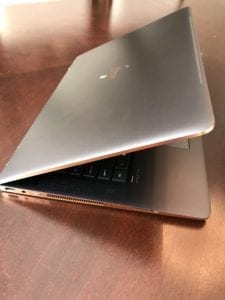 Screen
One of the best features of this laptop is its 15.6 inch 4k display. The screen is very crisp and looks stunning when viewing 4k content. What really sets this display apart from other screens is that it has active pen support technology. HP is generous enough to include a pen (rebranded surface 4 pen) with the laptop. The Spectre x360 15 pen works well for taking notes, minor sketches, and photoshop use. I personally love taking notes with the pen in Microsoft OneNote. The pen is easy to use and you can do a diverse set of things with it.
Performance
The Spectre x360 15 is only offered with an Intel Core i7 7500-U dual core processor (2.7 GHz, up to 3.5 GHz). This processor is used in a lot of mid to high end laptops. The CPU handles common applications with ease and performs well with more CPU strenuous applications. The Intel Kaby Lake processor had no problem powering through heavier applications like Photoshop CC and Adobe Light Room. The 16gb DDR4 ram equipped on this unit performs great and makes switching between applications feel snappy. Like all NVMe storage the 512GB Samsung branded drive on this unit is astounding. The extremely fast read and write times with this drive is definitely noticeable in day-to-day tasks. I would say that NVMe is the future and it definitely puts other drives to shame.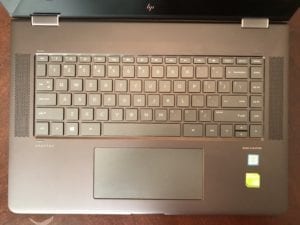 Battery
The battery on the Spectre is average mainly because of the 4k touchscreen. HP says that the batter will last "up to 12.5 hours". I've been getting around 8-10 hours on a charge depending on usage. One big positive about the batter is that it uses HP's Fast Charge technology. The Fast Charge technology allows the battery to reach 50% in capacity in just 30 minutes.
After owning the HP Spectre x360 15 for over two weeks I can say that HP has hit a homerun with this one. I found it tough to find many faults with the Spectre x360 15.  It has everything that a user would need in a 15-inch convertible laptop, including excellent performance, crystal clear 4k touch screen display, USB type C and Thunderbolt ports, solid Bang and Olufsen speakers, and great build quality. The only downfall of this laptop in comparison to other devices in its size class is the lack of a quad core cpu and average battery life. The HP Spectre x360 15 is bigger version of the awesome 13-inch Spectre x360; if you are looking for a bigger convertible laptop that packs a punch, then the 15-inch Spectre is the way to go.
Pros
Cutting-edge hardware
Strong performance
Excellent 4k display that is great for video and artwork
Blazing fast NVMe storage
IR camera for Windows Hello
Multiple ports
Great build quality
Sleek design
Dedicated NVIDIA GPU
 Cons
Battery life is subpar (because of 4k screen)
No quad-core CPU option
Prone to fingerprints
Bottom Line
HP is offering tremendous value with its Spectre x360 15. The abundance features and technology that is offered at this price point is hard to beat when compared to its competitors.